Who is online?
In total there is
1
user online :: 0 Registered, 0 Hidden and 1 Guest
None
Most users ever online was
15
on Thu May 11, 2017 10:39 pm
Statistics
We have
205
registered users
The newest registered user is
eldrdaaraw
Our users have posted a total of
247
messages in
112
subjects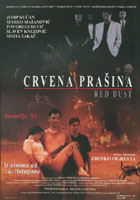 Titl:
http://www.imdb.com/title/tt0210629/
Socijalno angažirani film Zrinka Ogreste progovara o turbulentnim
devedesetima, o ratu i ratnim profiterima, policiji i nesretnim
ljubavima.
Zanr: krimi, triler, drama
Uloge:
Josip Kucan, Marko Matanovic, Ivo Gregurevic, Slaven Knezovic, Mirta
Takac, Kristijan Ugrina, Sandra Loncaric, Žarko Savic, Ante Vican,
Božidarka Frajt, Marica Vidušic
Sadrzaj:
Nakon što nije primio brzojav o majcinoj smrti Crni (Josip Kuchan)
1990. godine bježi iz tadašnje vojske te se vraca u Zagreb, u kvart u
kojemu je odrastao gdje je upravo u tijeku vjencanje njegove bivše
djevojke Lidije (Sandra Loncaric) i popularnog Bossa (Slaven Knezovic),
lokalnog mocnika, mafijaša i vlasnika kafica.
Crni je prije rata
trenirao boks u malenom zaglebackom klubu no od ringa se ne da živjeti
te uz pomoc prijatelja, automehanicara Škrge (Kristijan Ugrina) ulazi u
šverc cigaretama ugrožavajuci tako, posvje nesvjesno, Bossov uhodani
posao. Uz to sve više vremena provodi sa djevojkom iz susjedstva koja
ga pokušava nagovoriti da se ostavi sumnjivih poslova.
Njegov bivši
boksacki trener, kvartovski policajac Kirby (Ivo Gregurevic) štiti ga
pred policijom i nagovara na povratak boksu. Lidiji pak ne treba mnogo
da shvati da se udala za nasilnika te bježi u kucu Crnoga. Nedugo zatim
Crni pronalazi mrtvu Lidiju u svome stanu dok mu se istovremeno raspada
veza.
Komentar:
Ogresta je svojim filmom nastojao što vjernije prenijeti našu
svakodnevnicu s pocetka devedesetih. S jedne strane imamo lokalnog
decka koji brani svoju zemlju na bojištu dok za to vrijeme novi
bogataši postaju svakojaki sumnjivi likovi koji kupuju firme na
rasprodaji zvanoj Hrvatska pretvorba.
Tragicna romansa,
egzistencijalni problemi i neizvjesna buducnost problemi su s kojima se
suocava Crni kojeg Ogresta vidi kao tipicnog predstavnika generacije.
Režija: Zrinko Ogresta
Scenarij: Goran Tribuson, Zrinko Ogresta
Producent: Sanja Ivancin
Trajanje: 105'
Godina izdanja: 1999.
Zemlja: Hrvatska
Izdavac: HRT i Interfilm Zagreb
http://rapidshare.com/files/90367830/Crvena_prasina_make_forum.yump3.org.part1.rar
http://rapidshare.com/files/90373181/Crvena_prasina_make_forum.yump3.org.part2.rar
http://rapidshare.com/files/90378305/Crvena_prasina_make_forum.yump3.org.part3.rar
http://rapidshare.com/files/90383537/Crvena_prasina_make_forum.yump3.org.part4.rar
http://rapidshare.com/files/90388768/Crvena_prasina_make_forum.yump3.org.part5.rar
http://rapidshare.com/files/90395787/Crvena_prasina_make_forum.yump3.org.part6.rar
http://rapidshare.com/files/90399891/Crvena_prasina_make_forum.yump3.org.part7.rar
http://rapidshare.com/files/90401001/Crvena_prasina_make_forum.yump3.org.part8.rar
pass:forum.yump3.org
_________________
Posetite:
www.lax-forum.friendhood.net
Ili preuzmite nas toolbar:
www.laxforum.ourtoolbar.com
KO KAZE DA SE REKLAMIRAM, ON JE MAJMUN!!!!!!!
Admin





Broj poruka

: 44


Godina

: 24


Datum upisa :

2009-02-03





Similar topics
---
Permissions in this forum:
You
cannot
reply to topics in this forum